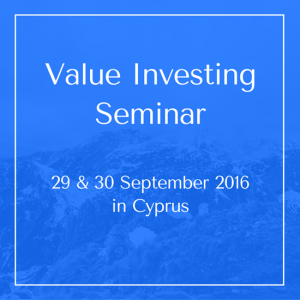 I hope you'll join me in Cyprus on September 29 & 30, 2016 for a different kind of investment seminar.
One where you can:

see old friends,
make new friends,
learn from other value investors just like you,
share ideas but also the thinking behind the idea,
share your interest and fascination with value investing,
network with other value investors through speed dating and a detailed profile of all speakers and participants, and
become a better investor!
When:    Thursday 29 and Friday 30 September 2016
Where:  Nicosia on the Island of Cyprus
Speakers: Pavel Begun (3G Capital); Sebastien Lemonnier (Mansartis); Steve Gorelik (Firebird Management); Ernst Gronblom & Pasi Havia (Helsinki Capital Partners); Simon Caufield (Family Office); Diego Moreno (Forum Family Office); Raman Minhas (Private Fund); David Kessler (Robotti & Company Advisors); Tim du Toit (eurosharelab); Charis Charalambous (Active Banking Sector Fund); Florentzos Kassoumis (FAMco); Sophocles Sophocleous (FatAlpha).
For more information or to registor for the event see: http://eurosharelab.com/cyprus-seminar-2016/
(or drop me a note at admin-at-grahamanddoddsville.net and I will try to help)